We wondered who that lady was!
https://www.instagram.com/p/CNzRSHjB5Dv/?utm_source=ig_web_copy_link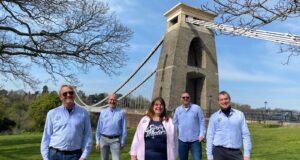 It was no one other than Ms Carol Vorderman out for a stroll on a beautiful spring day across the Bristol Downs at Clifton .
Recording our song for the Falmouth Virtual Shanty Festival: We did see you Carol, but didn't recognise you.
And just for the record; Maggie May or Maggie Mae is a Liverpool Folk song and was sung by the Beatles. Chris took the liberty of adapting the lyrics to a Bristol theme; apologies to residents of Lime Street and any Scousers out there.
Open the link to see Carol's post.